Dutch Plan for Rising Seas- Floating Homes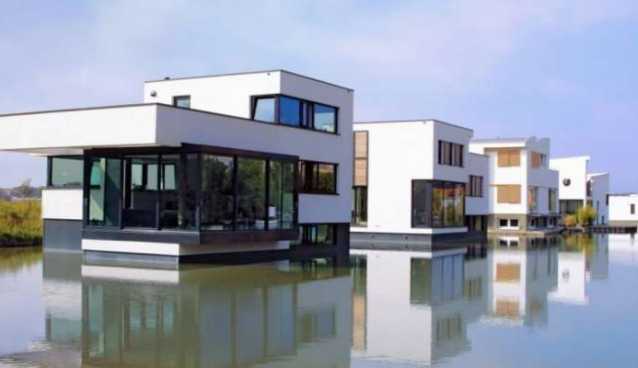 Flood resistant houses built on water: 
In many coastal regions there is abundant evidence of sea level rise- and the rate of coastal loss is increasing. Countries with the most to lose are those that are the closest to sea level.
We are seeing big flood barrier plans for Venice, whose citizens began planning for sea level changes since the large flood there in 1966- long before climate change was part of planners' vernacular. Venice's plan to install large sea gates to hold back the tides may not be enough. There may simply be the need for planners to design for the inevitable:
Netherlands Floating Home Concept
Long used to life under sea level, the Dutch are implementing a long term, comprehensive plan for dealing with the rising North Sea: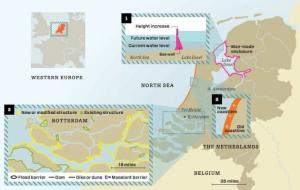 Seeking a similar result, (yet with much less capital for a "mega project"), Thailand too, is planning to combat rising waters with advanced designs- but rather than fight the tides and keep water out, the Thai planners are, well, planning for an inevitable rise:
Initially
a Dutch only design scheme, recently architects worldwide are exploring ways to build housing systems which can absorb/avoid the worst. This new school has been dubbed "Aquatecture"
The focus on floating solutions has grown enormously. It has shifted from freak architecture to more sustainable, flexible alternatives," says Dutch architect Koen Olthuis
Coastal Cities facing of Sea Level Rise
To anyone charged with long term planning in Thailand it's becoming quite clear that its capital,  Bangkok, is expected to be partially or completely underwater by the end of this century.  Pacific Ocean coastal cities under threat also include Tokyo,  Jakarta and Sydney.
In a study for low-lying New York, Olthuis says he envisioned Manhattan ringed by a sea wall with outlying boroughs allowing water to enter and adapting. The world's Londons and Bangkoks, he says, may become "hydro-cities," their historic hearts and concentrated core development waterproofed and other areas "going with the flow."
Read more about floating homes- Original article at the Cleveland Plain Dealer