Lighter Surface Colors- Cooler World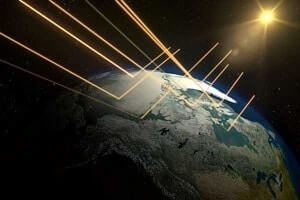 High Albedo reflects sunlight
Albedo is simply the "whiteness" of a surface; its ability to reflect light energy.
Surface  reflectivity is measured in values between Zero and One-  Zero indicates complete  black and one means totally white.  When evaluating a surface, assigning it a value near zero would mean the surface  absorbs more of the sun's heat energy.   A value of closer to one means a surface reflects that energy.
Why does reflectivity (albedo) matter? Concerns about a warming planet.
The more light that is reflected back up through the upper atmosphere, the less gets absorbed and released into the lower atmosphere as infrared heat:
Solar reflective urban surfaces (white rooftops and light-colored pavements) can increase the albedo of an urban area by about 0.1. Increasing the albedo of urban and human settlement areas can in turn decrease atmospheric temperature and could potentially offset some of the anticipated temperature increase caused by global warming.
The following picture clearly makes this point:
As illustrated- Lighter colored surfaces (such as the snow covered mountain) reflect a good portion of the incoming sunlight and send it back into space!
Darker colored surfaces (such as the black asphalt road and roof))  absorb sunlight energy and slowly radiate it back out as infrared heat.
Heat Island effect
The term "urban heat island" describes the phenomenon of metro regions being measurably warmer than their neighboring  rural areas. In addition to a city's increased  vehicle and building emissions, metro areas simply have more black asphalt roads and roofs. Additionally,  there is comparatively far less green space downtown-  there are  fewer trees, and more dark surface areas in general.
Some cities can be  1–3°C warmer than surrounding areas in the afternoon. Very late in the day the urban areas can be up to 12°C  hotter. Urban heat islands increase summer energy demand, , as well as cause an increase in air pollution and greenhouse gas emissions. On the worst days, there is also a sharp uptick in heat related illness and mortality.
Increase Albedo to Reduce Urban Heat Island Effect
As seen in the illustration above, increasing the albedo (reflectivity) of large surface areas (such as parking lots) can reduce the heat island effect This will result in significant cost savings,  increased comfort and better overall public health.
Reflectivity can be increased by:  Installing/retrofitting roofs with light colors/coatings , Transportation departments choosing lighter colored paving, and contractors and developers choosing lighter  surface materials.  Additionally, some consideration should be given to white or green roofs while planning new development.
Additionally, the heat island effect can be minimized by adding more  green space, and increasing  street tree planting in neighborhoods undeserved by parkland.
Thermal Imaging
Note the white Portland cement cool areas to the left (greens and blues)- Blacktop road areas to the right are in red (hot!) The black road absorbs sunlight and radiates it out as infrared heat.
Multi surface road with varied material Albedo. Note sunlight on white reflective (high albedo) and  black (low albedo) non reflective areas:
It's clear that small changes in roof or road reflectivity can have a large effect on the amount of heat absorbed.
Arctic Ocean Albedo Loss
If we can increase cooling by making things whiter and more reflective… What happens when we lose highly reflective things in nature, such as mountain snow-pack and sea ice?  As we saw earlier, when surfaces get darker, they get warmer.
A typical ocean albedo is approximately 0.06, while bare sea ice varies from approximately 0.5 to 0.7. This means that the ocean reflects only 6 percent of the incoming solar radiation and absorbs the rest, while sea ice reflects 50 to 70 percent of the incoming energy. The sea ice absorbs less solar energy and keeps the surface cooler. Snow has an even higher albedo than sea ice, and so thick sea ice covered with snow reflects as much as 90 percent of the incoming solar radiation

As one might expect- as the sea ice melts in a warmer world, the oceans absorb heat that would normally be reflected by white ice and snow… exacerbating  the polar warming trend.
Here is an image from NASA which illustrates the 1979-2012 reflectivity loss in the Arctic.
It's time to make more surfaces whiter,  faster – as higher albedo will mean a brighter, cooler, future.
Portions of this post are sourced from our previous blog, "The Workbench".